9F Evening Star RailWorks Add-on
Availability
Discontinued
Scenarios
4 Standard
Price
£11.99
The Class 9F was the last in a series of standard locomotive classes designed for British Railways during the 1950s, intended for use on fast, heavy freight trains over long distances.
It was one of the most powerful steam locomotive types ever constructed in Britain, and performed its intended duties successfully until withdrawal. 92220 Evening Star was the last steam locomotive to be built for British Railways, and the only steam locomotive earmarked for preservation from the date of construction.
For Train Simulator, the 9F Evening Star add-on was developed by Iron Horse House and initially released through Steam and later withdrawn. It comes with scenarios for the Somerset & Dorset Railway, Great Western Main Line, and East Coast Main Line.
Rolling Stock
Edit
9F 2-10-0

92220 Evening Star in British Railways lined green
British Railways black with double chimney
British Railways black dirty with single chimney
BR 1J and BR 1F tenders in matching liveries
Scenarios
Edit
[9F] Pines Express - Starting from Evercreech Junction you are in charge of the last ever northbound Pines Express. Emulate the achievements of Peter Smith as you attempt to take this record load of 426 tons unaided over the Mendips to Bath.

Date: 1962
Rating: Very Hard
Duration: 55 minutes
Season: Autumn
Start Location: Evercreech Junction
9F Livery: BR Green 92220 Evening Star
[9F] Summer Saturday - Bath Green Park is busy with locomotive movements. It is essential that you follow the instructions for the AI to carry out their complex manoeuvres, before setting out with a heavy train for Templecombe.

Date: 1962
Rating: Hard
Duration: 100 minutes
Season: Summer
Start Location: Bath Green Park
9F Livery: BR Green 92220 Evening Star
[9F] Red Dragon - Your task is to take preserved 9f Evening Star on the Red Dragon re-enactment preservation special from Didcot to Paddington.

Date: February 1981
Rating: Easy
Duration: 60 minutes
Season: Spring
Start Location: Didcot Parkway
9F Livery: BR Green 92220 Evening Star
[9F] Iron Awe - More complex operations. You are in charge of the banking loco of a very heavy iron ore train. Follow the on screen instructions and watch your speed as the brakes are barely able to cope.

Date:FFebruary 1965
Rating: Hard
Duration: 50 minutes
Season: Autumn
Start Location: Dunston Staithes
9F Livery: BR Dirty 9F single chimney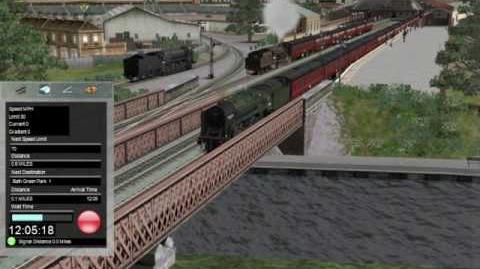 Ad blocker interference detected!
Wikia is a free-to-use site that makes money from advertising. We have a modified experience for viewers using ad blockers

Wikia is not accessible if you've made further modifications. Remove the custom ad blocker rule(s) and the page will load as expected.