BR Sectors Class 56 Loco Add-On
Availability
Currently available on Steam
Features
Class 56 in Railfreight Sectors livery
Scenarios
2 Training
2 Career
Price
£11.99
Link
Here!
BR Sectors Class 56
Edit
Following the acquisition of most of Iron Horse House's library, Dovetail Games brought the model up to modern standards and improved the exterior modelling. Features include cab and instrument lighting, two-tone horn, driver vigilance device, engine shut down/start up procedure and slow speed control.
Scenarios
Edit
All scenarios are for the West Coast Main Line North route:
Training: Class 56 Simple & Expert Controls
Edit
You will be shown how to drive a Class 56 Diesel Locomotive.
This will include: how to couple up to wagons; safety systems; and stopping at signals. Don't worry though, all will be explained at a comfortable pace.
[56] Heavy Going
Edit
With a heavy load of coal from Ravenstruther, you are driving a Class 56 diesel locomotive in a 'double headed' formation. Starting at Carstairs, you will take this service as far as Lockerbie.
You are currently waiting in the up loop at Carstairs to allow an express passenger service to pass. Once this train has passed and you are given the signal, you can proceed on your journey.
[56] Ready for Repair
Edit
Following the earlier failure of a Class 47 locomotive at Carstairs whilst hauling wagons for repair at Hamilton, you have been sent from Mossend in order to rescue the failed train and complete the journey.
Having arrived at Carstairs, you are now ready to couple to the stricken locomotive. Once this is done, you will be able to proceed to the wagon repair complex near Hamilton.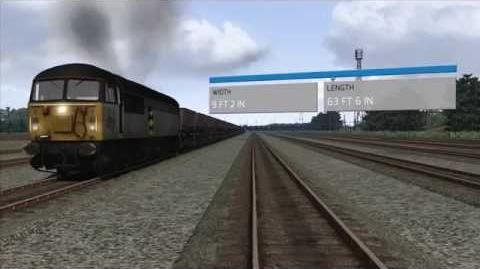 Ad blocker interference detected!
Wikia is a free-to-use site that makes money from advertising. We have a modified experience for viewers using ad blockers

Wikia is not accessible if you've made further modifications. Remove the custom ad blocker rule(s) and the page will load as expected.