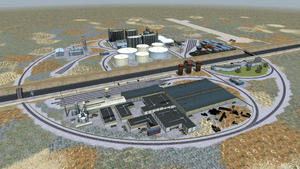 Hopetown is an Australian shunting route included with the Up the Junction shunter pack. Unlike any other Train Simulator routes, Hopetown uses broad gauge track specifically for the F Class diesel shunter.
The layout itself is reminiscent of a model railway, being a very basic circle with numerous sidings and transfer areas within. The terrain is an industrial facility with a river running through the middle and a small landing strip nearby.
Goods Yard with five sidings
Container Yard with five sidings and a container loader
two Grain Silo and two Warehouse sidings diametrically opposed on a crossover
Two diesel pumps
A small yard with three sidings
Ad blocker interference detected!
Wikia is a free-to-use site that makes money from advertising. We have a modified experience for viewers using ad blockers

Wikia is not accessible if you've made further modifications. Remove the custom ad blocker rule(s) and the page will load as expected.